This bean-free, low carb chili is simple to make, Whole30 approved and full of flavor!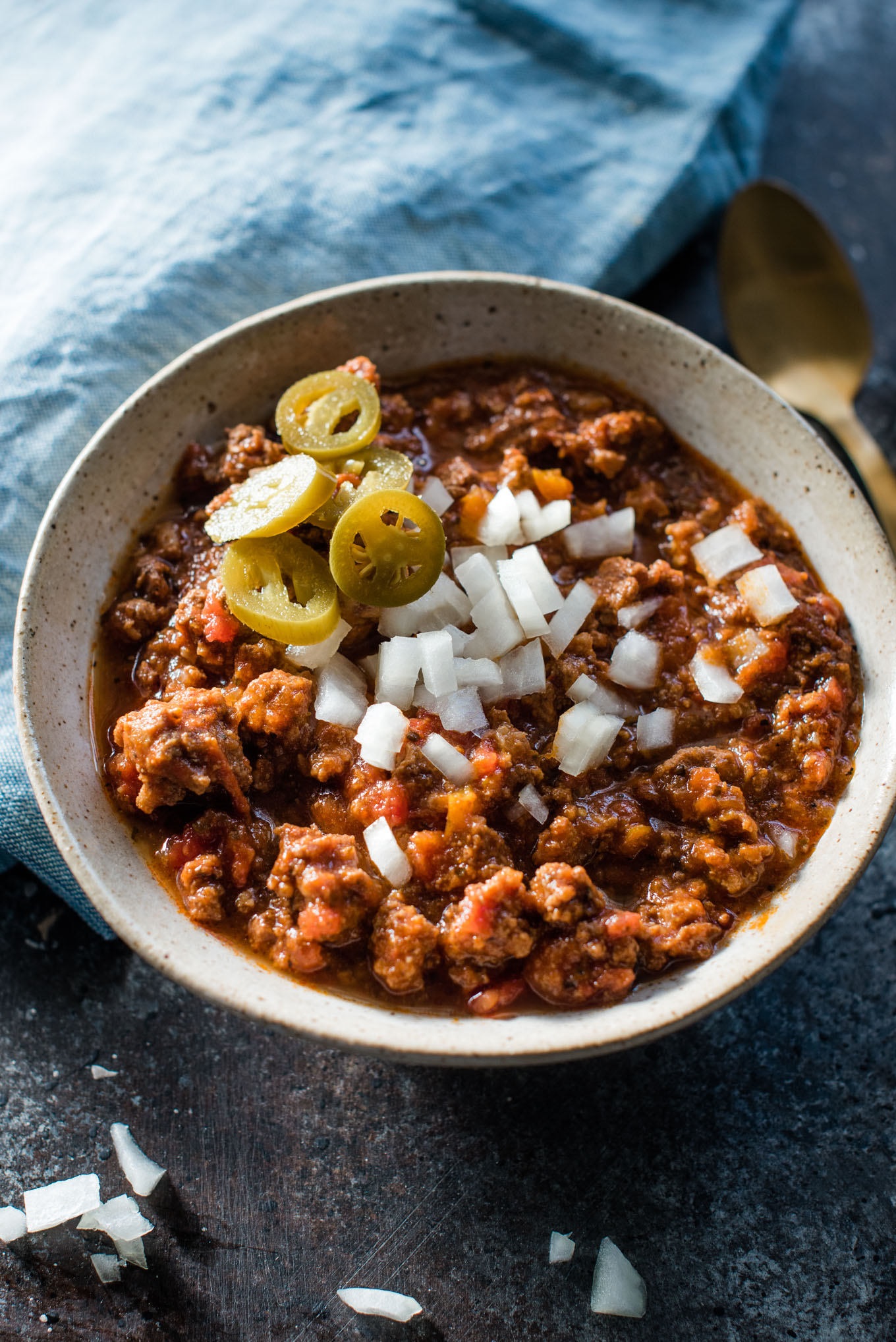 I love a good chili in the fall and winter seasons and this is one of my favorites, but I ran out of beans. I did what I thought was the unthinkable- I made chili without beans!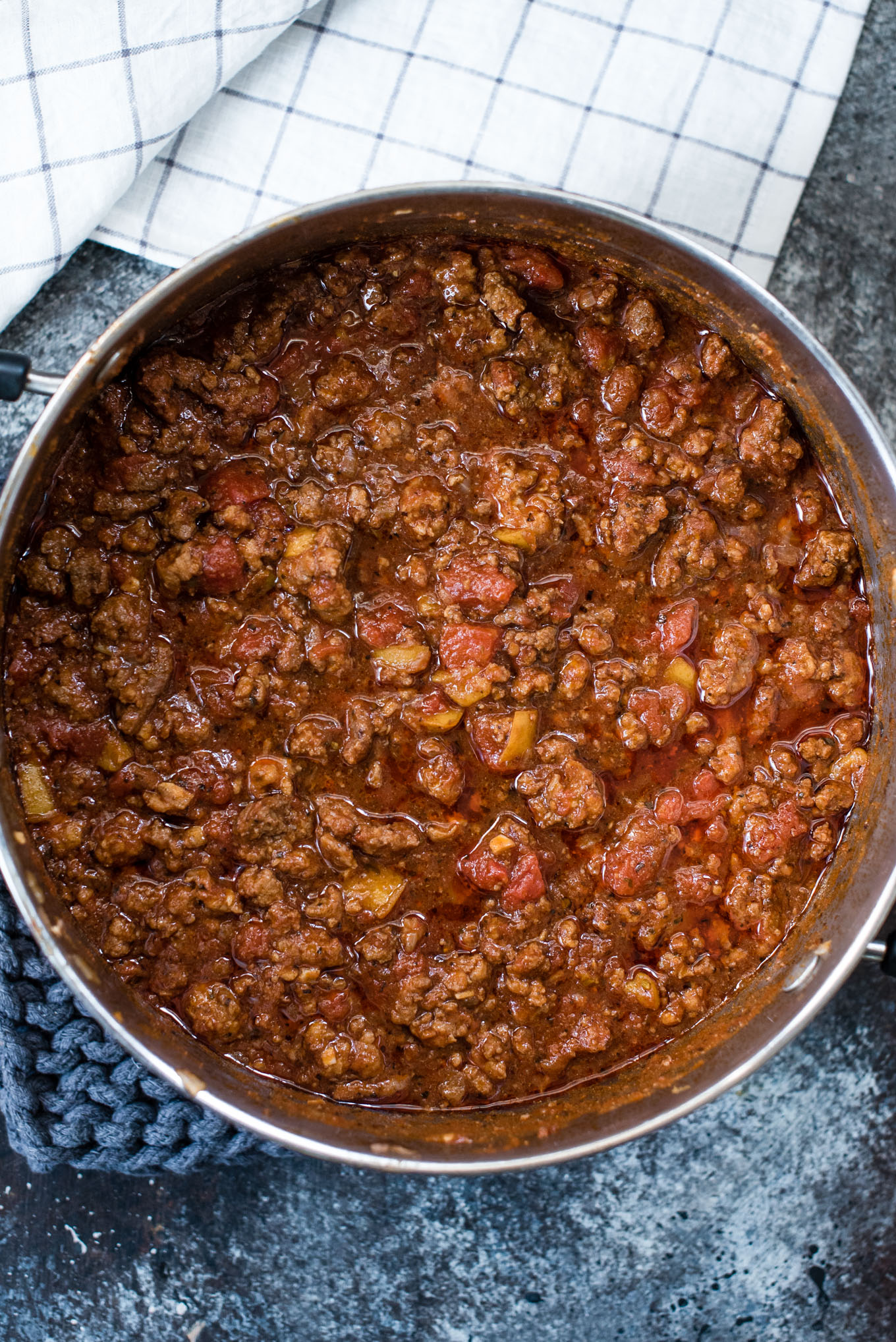 The verdict? It was great! I still prefer beans but this version is good over a potato or with tortilla chips! Of course that no longer makes it low carb…haha, but do what you'd like.
This turkey chili is still my favorite chili recipe, but this low carb version is definitely a simpler recipe- less chopping and fewer ingredients.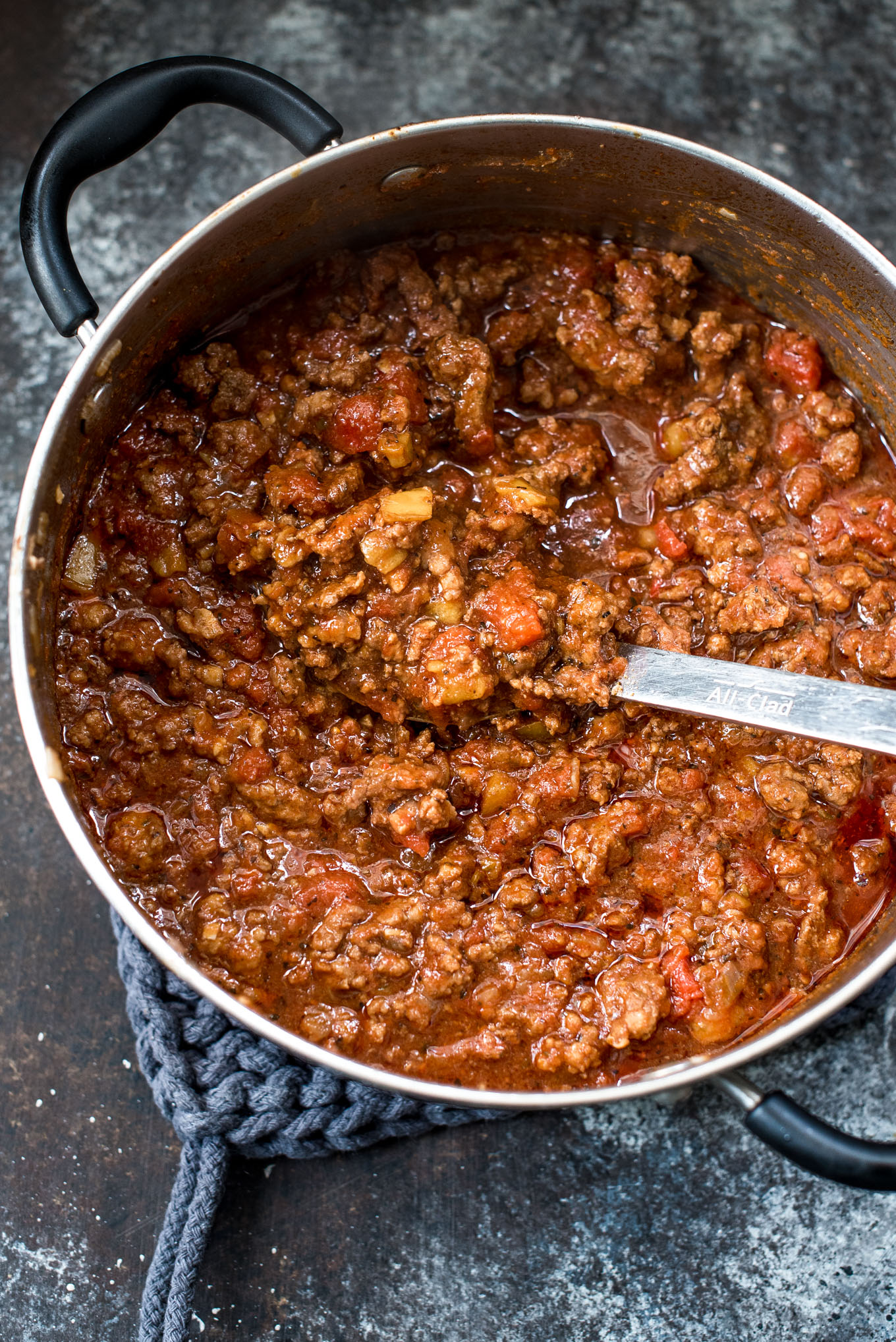 As with any chili you can mix up the meat. I use a good quality beef mixed with chicken sausage. Feel free to sub what you like- ground turkey, pork sausage, etc.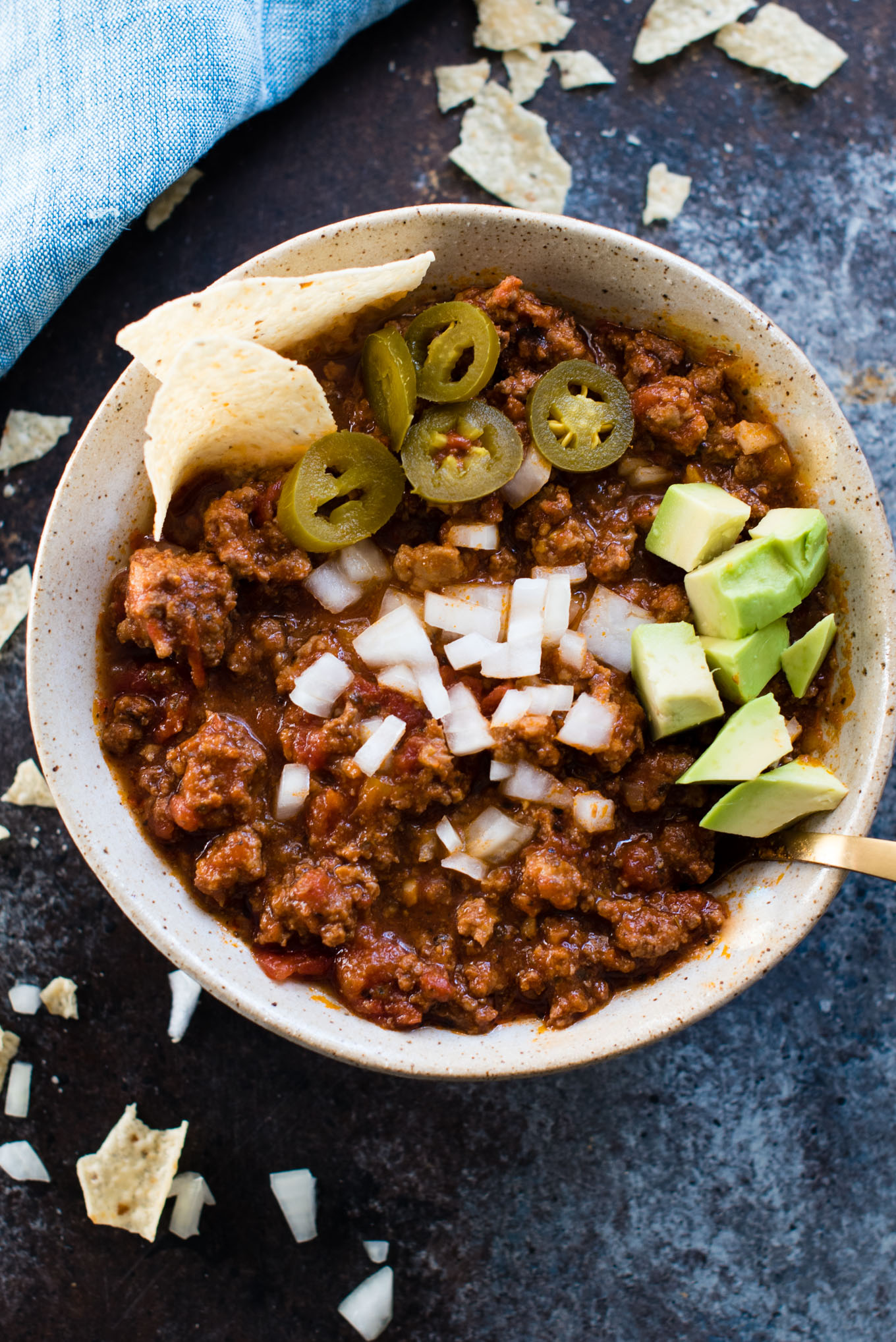 One of my favorite things about chili is that it freezes well (also, it gets better with time). If you keep it in smaller glass containers, you can defrost it in the microwave for a few minutes and then plop it right into a saucepan to heat up. That means if you forget about dinner, you are only 20 minutes away from a meal!
Prefer beans in your chili? Try one of these: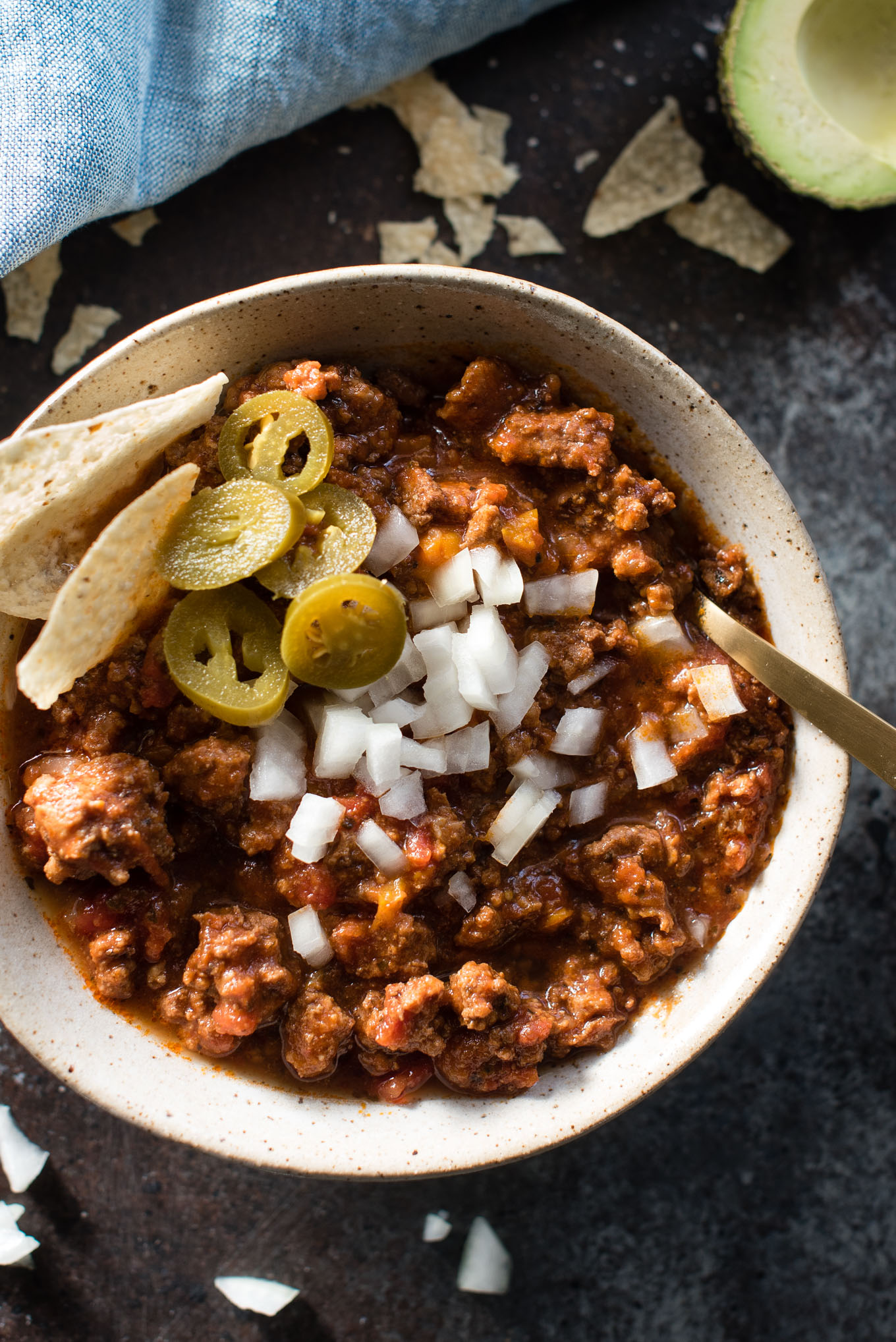 Surprisingly it's still chili weather here in Texas (and I still have my fire going) so we will continue our chili rotation for awhile longer.
Low Carb Chili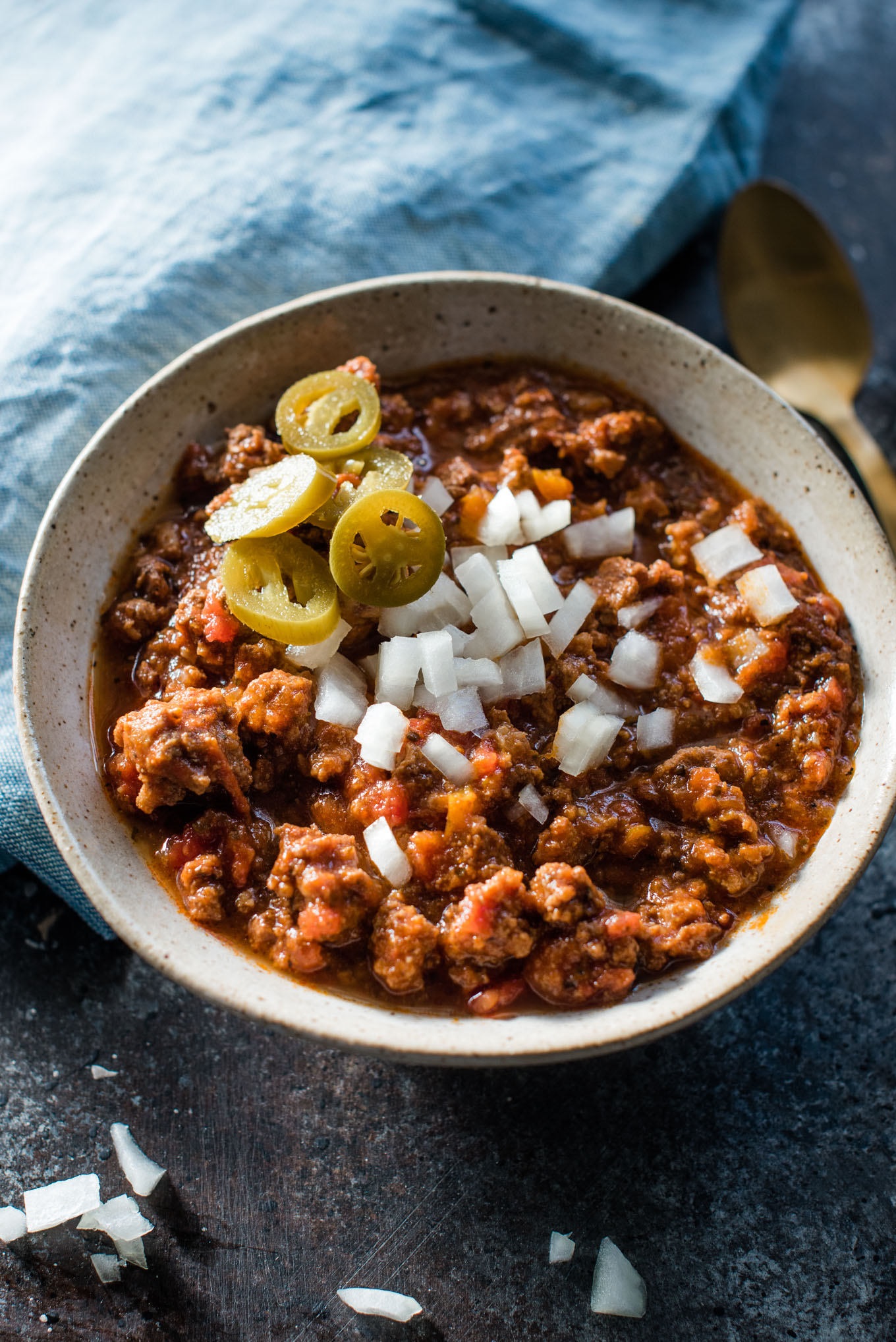 Author: Melanie F. | Nutritious Eats
Serves: 8
Ingredients
1 tablespoon olive oil
1 small onion, diced
1 yellow bell pepper, diced (any color is fine)
3 cloves garlic, minced
2 lb organic lean grass-fed beef (I buy %90 lean)
1 lb uncooked Italian chicken sausage (can sub turkey or pork)
2 cups organic beef stock/broth
6 ounce tomato paste
1 32-ounce can diced tomatoes
1 teaspoon salt
½ teaspoon pepper
2 teaspoons cumin
2 teaspoons chili powder
2 teaspoons dried oregano
1 teaspoon garlic powder
½ teaspoon cayenne
1 tablespoon Worcestershire
Toppings: pickled jalapenos, diced onions, avocado, a side of grain-free chips if doing Whole30
Instructions
Heat a large pot on medium high heat. Add oil, onion and bell pepper and saute for 5-6 minutes. Add garlic and stir for 1 minute. Next add beef, sausage and break up with a wooden spoon and cook until browned.
Add stock or broth, tomato paste, diced tomatoes and all of the seasoning. Turn to a low simmer for 1½ to 2 hours (the longer it simmers, the better the flavor). Enjoy or let it cool in shallow containers (freeze leftovers if needed).
3.2.2925