Pumpkin Pie Bars with a pecan oat crust are a delicious, reimagined twist on a classic dessert for your fall and winter gatherings, with all the same classic flavors of pumpkin pie.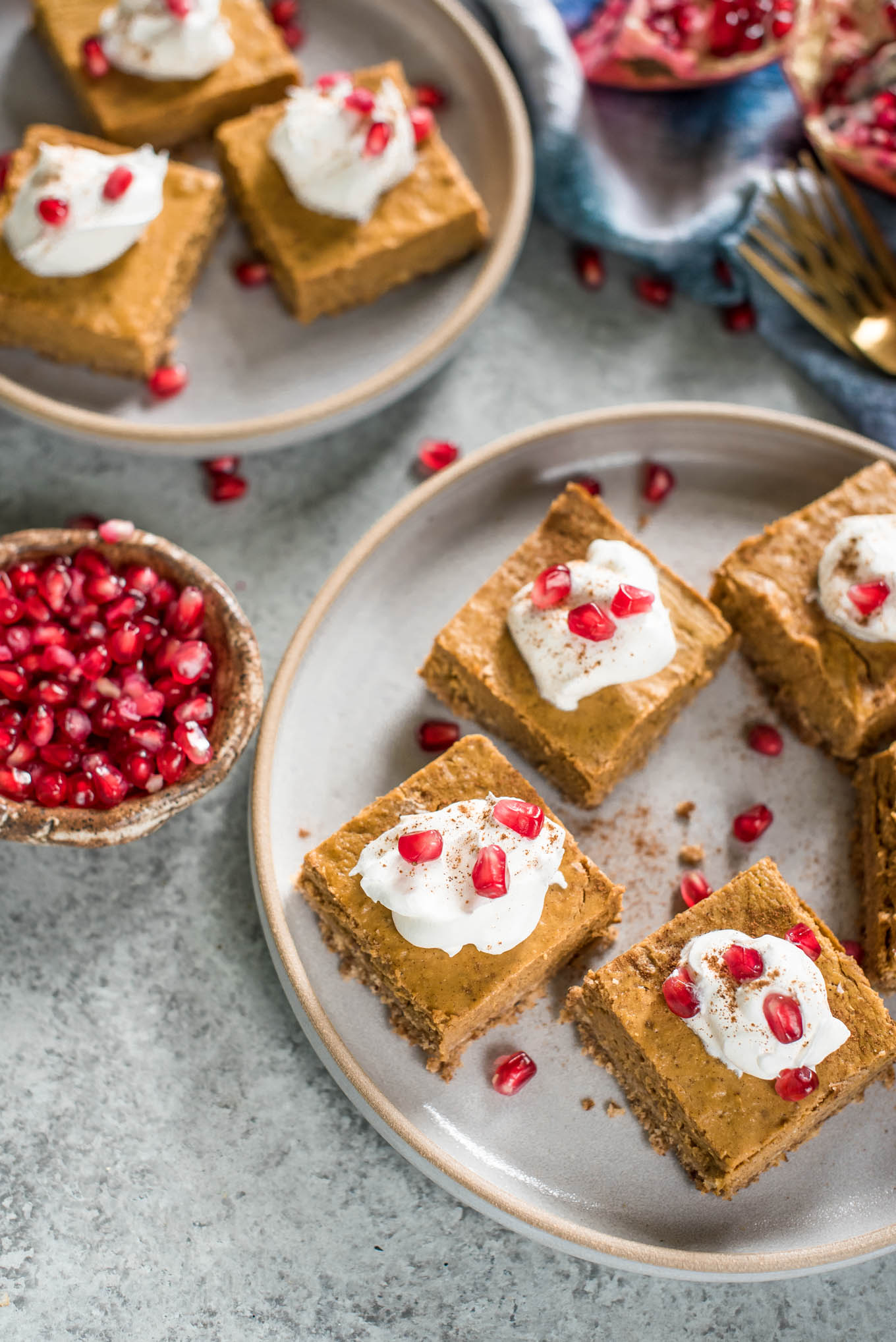 This post was created in partnership with Dannon Light & Fit. I have been compensated for my time commitment. However, my opinions are entirely my own and I have not been paid to publish positive comments.
The holidays are approaching, along with all the delicious food associated with them.
One of my favorite dishes from the dessert table is pumpkin pie and it happens to be one of the easiest to make! These pumpkin pie bars are a great choice when you are looking for something sweet, but not too heavy.
Traditionally there are a lot of pies at the holiday table, so these pumpkin pie bars are a nice pre-portioned option.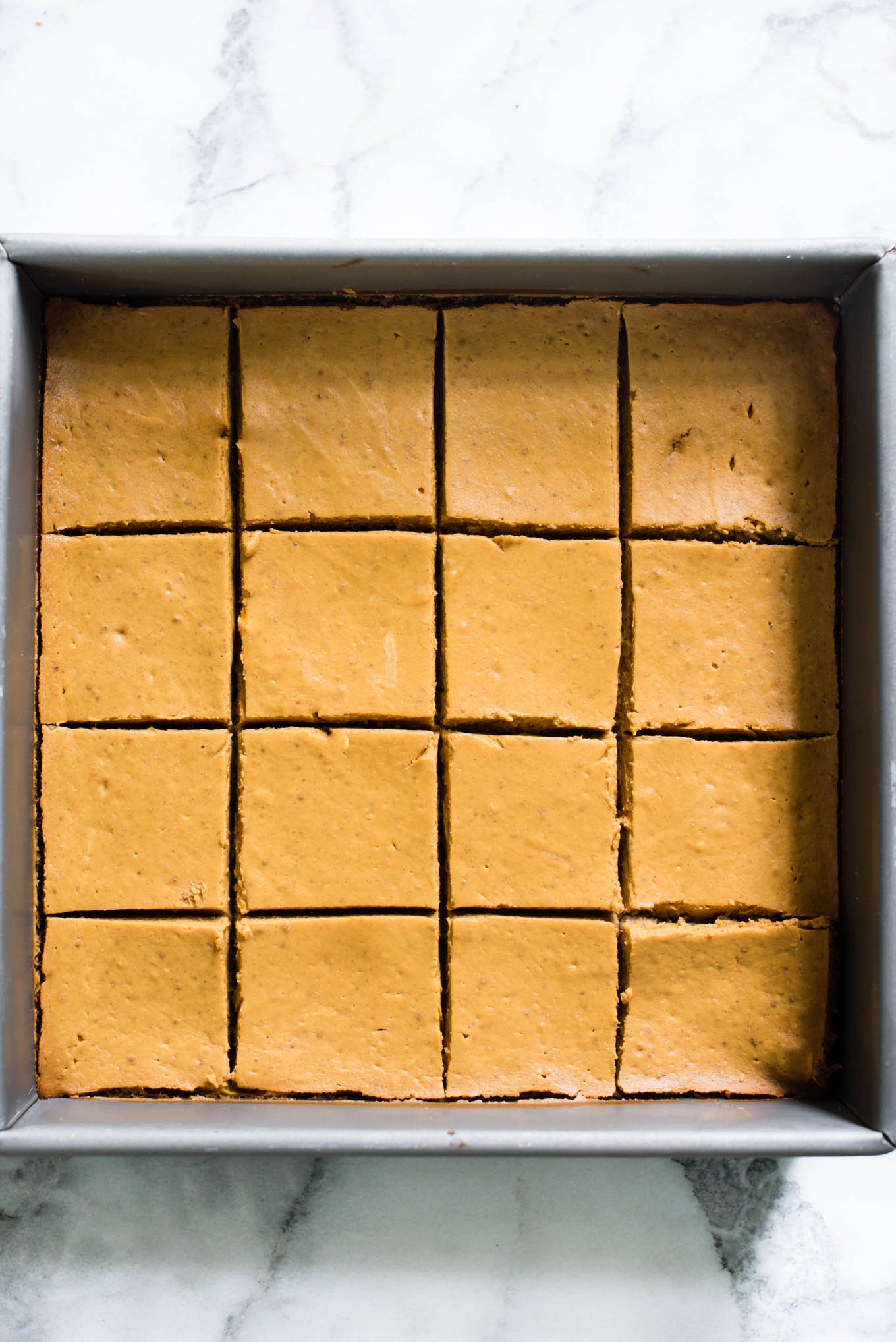 You can typically find a traditional pastry crust underneath the pumpkin goodness, which is not my favorite (probably because I am terrible at mastering the flakey, buttery dough). This simple pecan oat crust is foolproof and pairs perfectly with the pumpkin. Bonus points for being more nutritious!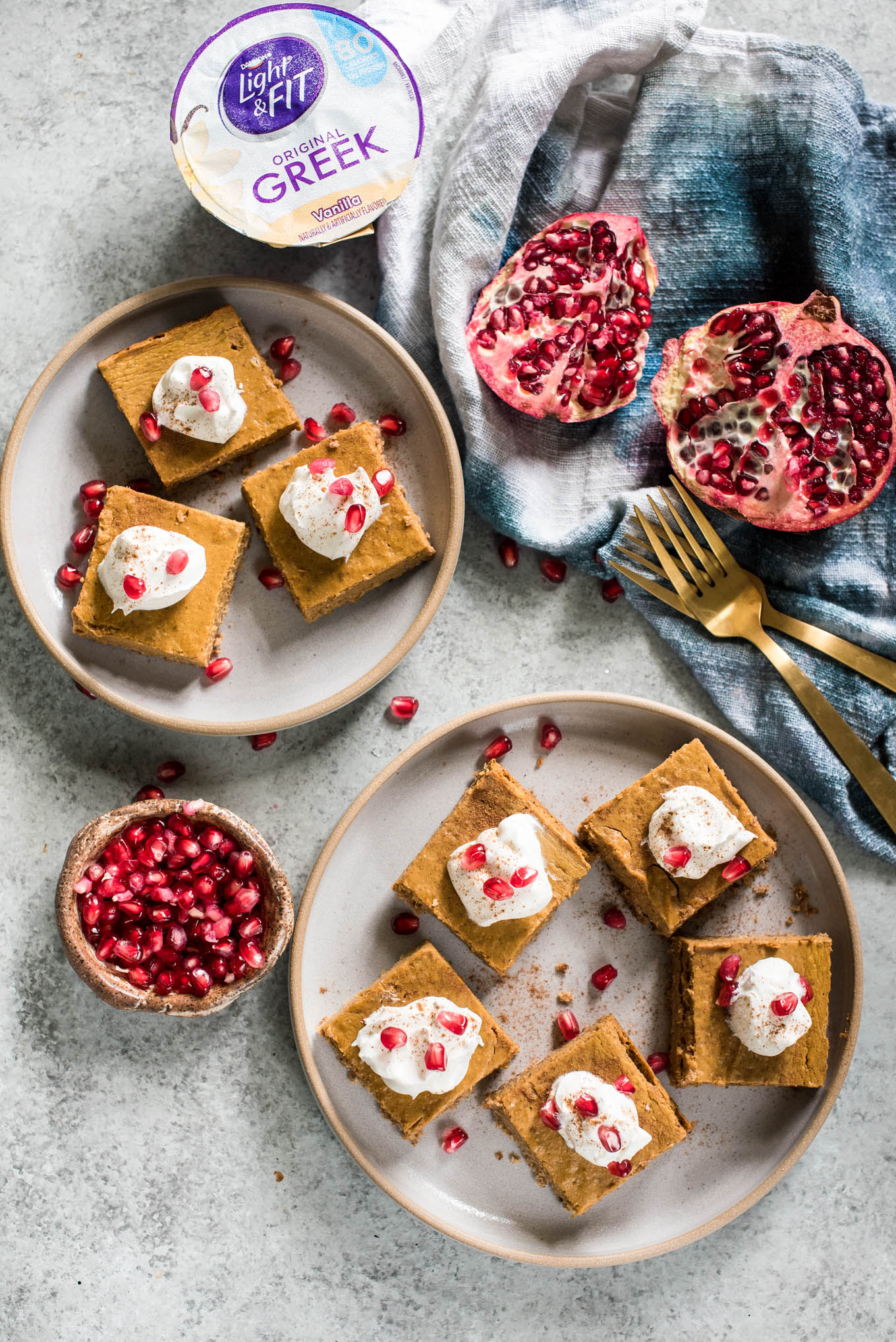 To cut back on some of the sugar, a container of vanilla Greek nonfat yogurt did the trick and added a lovely creaminess to the filling.
The 2015-2020 Dietary Guidelines for Americans recommend increasing intake of nutrient-dense foods, such as fat-free or low-fat dairy products, like yogurt. Yogurt is nutrient-dense, and many yogurts are a good source of protein and calcium. Greek yogurts typically contain more protein than regular yogurts.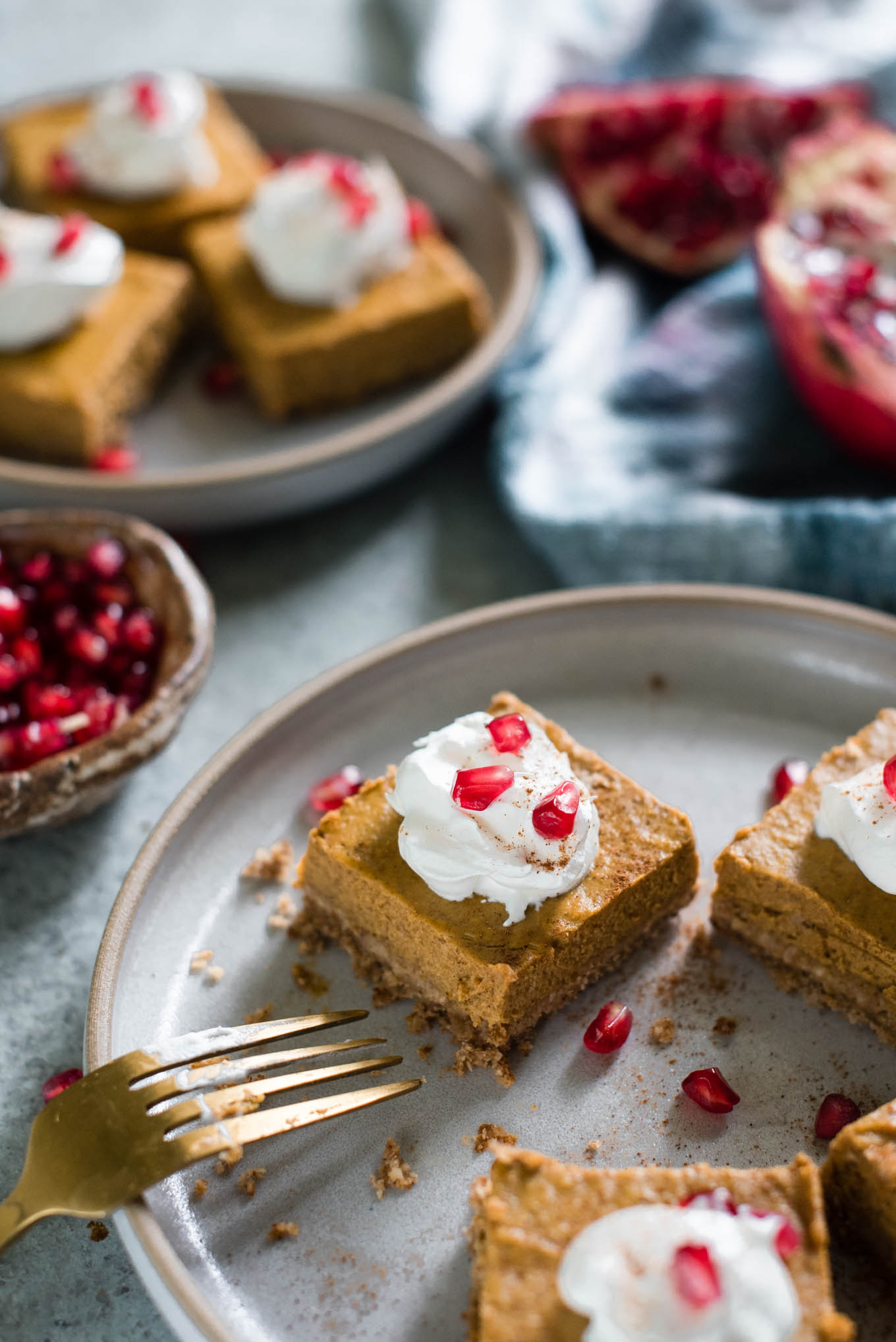 Light & Fit offers a delicious variety of products to fit any eating occasion! Light & Fit Original Greek Nonfat Yogurt contains 80 calories and 12 grams of protein per 5.3 oz
This limited release Dannon Light & Fit Original Greek Pumpkin Pie nonfat yogurt would also be great in this recipe!
So tell me…what is one of your favorite holiday comfort foods?
For more delicious meal and snack ideas with Dannon Light & Fit Original Greek Nonfat Yogurt, follow @Lightandfit on Instagram and use the hashtag #LightandFitRD #LightandFit."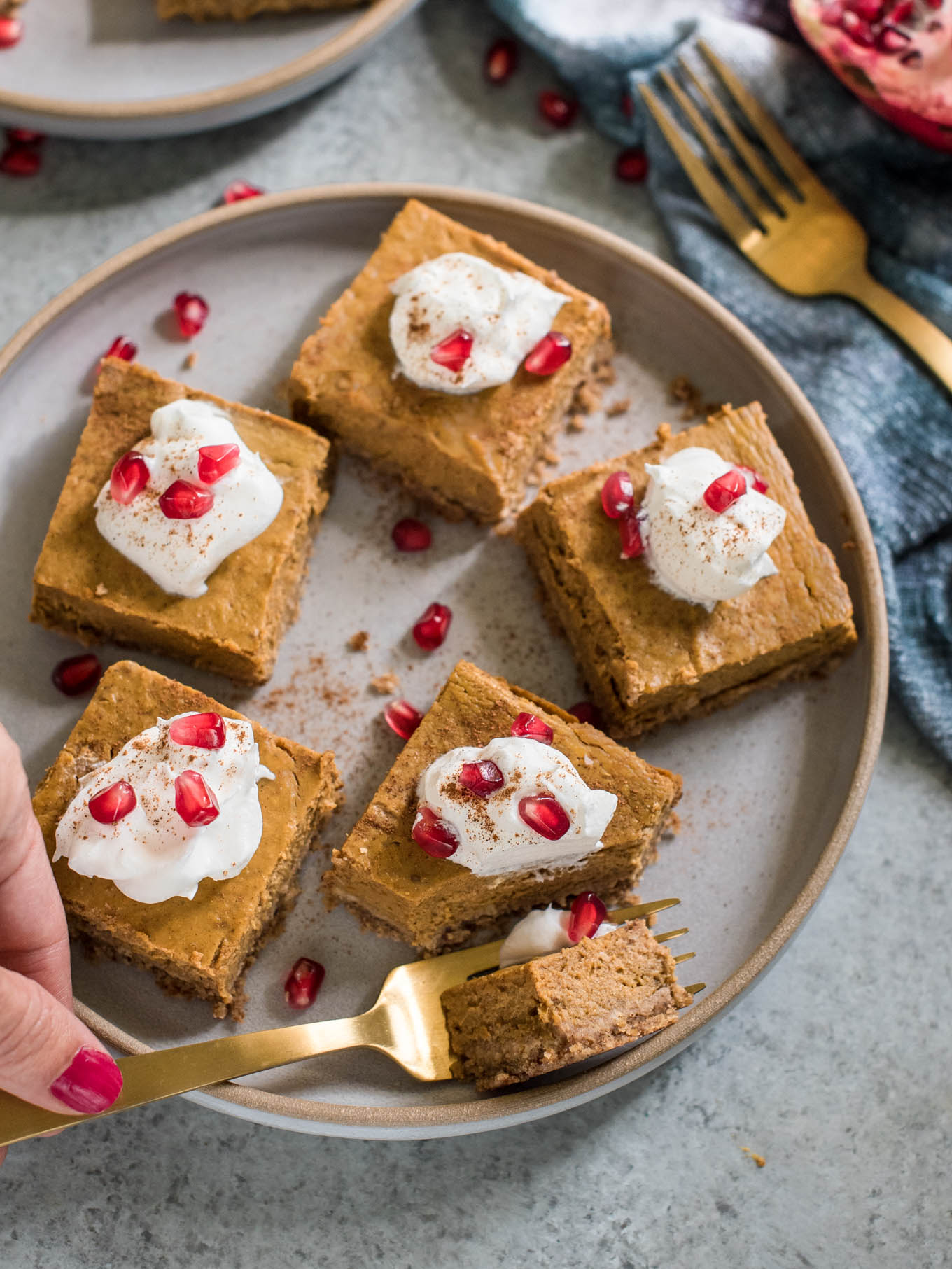 Pumpkin Pie Bars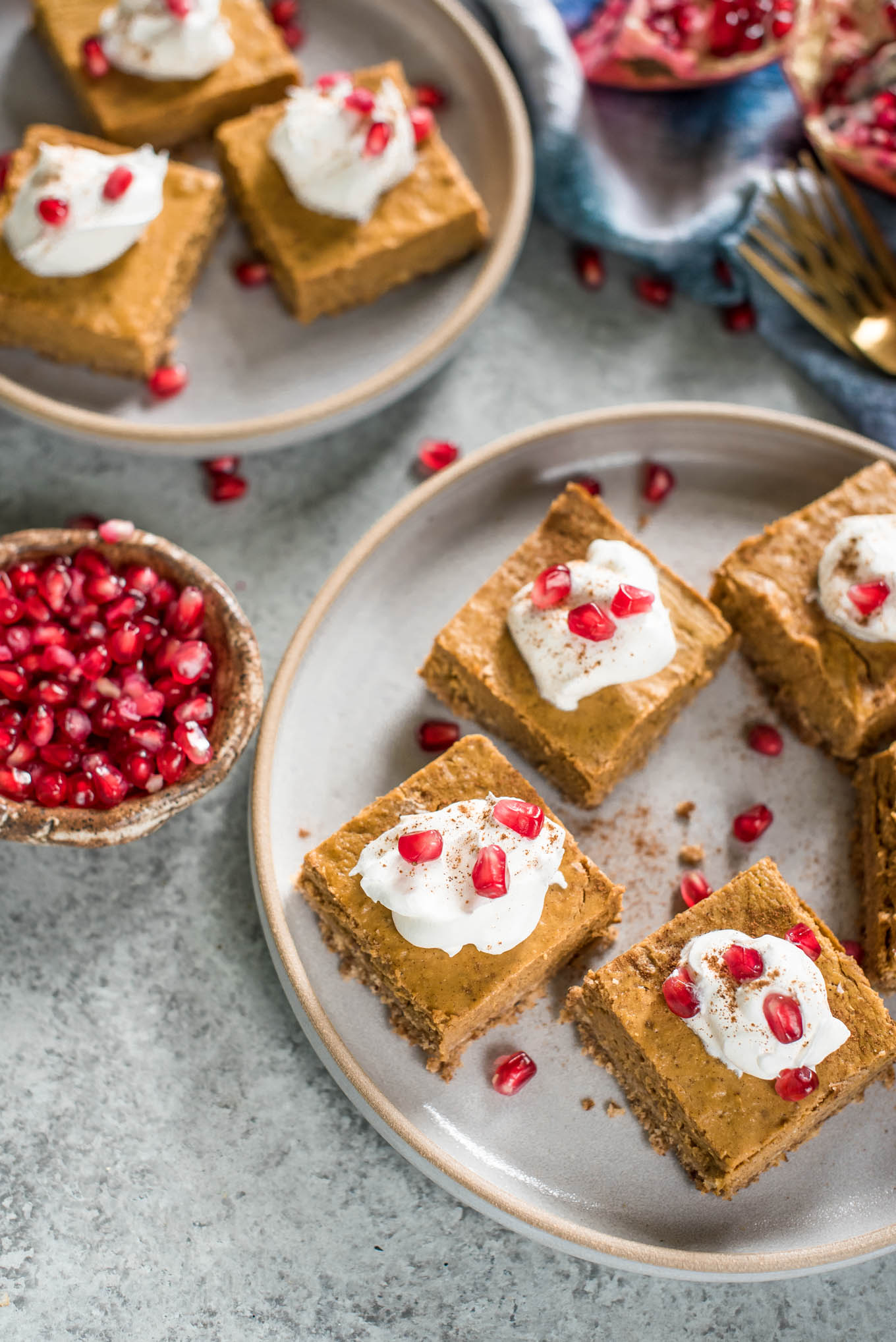 Author: Melanie F. | Nutritious Eats
Serves: 12
Ingredients
¾ cup gluten free rolled oats
1 cup pecans
¼ cup All-Purpose Gluten Free flour
5 tablespoons butter, melted
½ teaspoon cinnamon
2 tablespoons coconut sugar
1 tablespoon water
Filling:
1 (15 ounce) can pumpkin puree
1 (5.3 ounce) Light & Fit Original Greek Vanilla nonfat yogurt
⅓ cup coconut sugar (1/2 cup)
⅔ cup unsweetened vanilla almond milk
1 tablespoon pumpkin pie spice
1 teaspoon vanilla
3 eggs
1 tablespoon cornstarch
Instructions
Preheat oven to 350 degrees. Prepare a 9 inch square pan with foil. In a food processor, combine oats, pecans, gluten free flour and coconut sugar. Process until small crumbles form. Add melted butter, 1 tablespoon of water and process again until mixture looks combined. Add crust mixture to pan, patting down with your hands until it is evenly spread. Bake for 15-20 minutes.
Next, wash out food processor and move on to the filling. Add pumpkin, yogurt, milk, pumpkin pie spice and vanilla and blend until smooth. Add eggs and cornstarch and briefly process until combined. Pour filling on top of crust and bake for 40-45 minutes. Remove from oven to cool. Top with whipped cream or coconut whipped cream and a dust of cinnamon and pomegranate seeds (optional).
3.2.2925